Virtual Exhibits by Star
VIRTUAL EXHIBITS FOR TRADE SHOWS, CONFERENCES, AND MORE
Koios Medical Virtual Exhibit Showcase at RSNA 2020
Star successfully launched Koios Medical's virtual exhibit earlier this summer. For RSNA 2020, Star further enhanced their virtual presentation with guided navigation options, additional virtual presenters seamlessly integrated into the space, and an updated design that included a separate dedicated theater to showcase their selection of promotional marketing videos.
Their virtual exhibit was a success, and was recognized by DOTmed.com as their choice for best virtual exhibit for a small company.
Enhance your marketing and expand the reach of your trade show program with a virtual exhibit from Star!
Combining the visual experience of a dimensional environment with the efficiency of an online digital platform, Star's top-notch exhibit team can create a custom virtual exhibit for you tailored to your specific design and marketing criteria. Your virtual attendees can explore in 3D space and engage in valuable marketing content for a truly unique and memorable experience!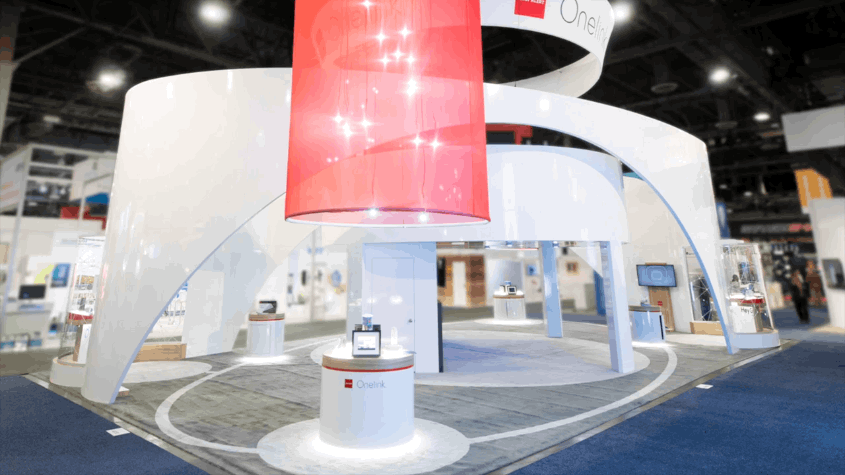 Maintain business & marketing continuity—for right now and for the future.
Maintaining business and marketing continuity in alternate and remote work situations has now become a timely priority in the last year.
A Star virtual exhibit gives you an alternate way to continue with your trade show event marketing efforts virtually while also expanding your overall marketing reach. Enhance your event program as we enter a post pandemic world with a hybrid event approach that includes a virtual component paired with your in-person event.
Showcase all of your produced and live digital content in one environment.
A Star virtual exhibit is an effective way to showcase all your digital marketing content in one environment:
Content types include:
promotional videos
presentations
product/service sheets
360˚ product demos
website content
social media
live stream media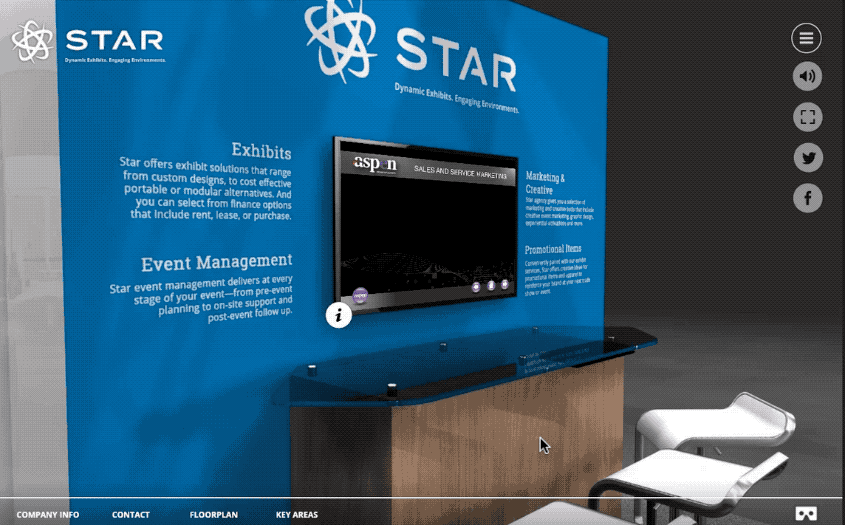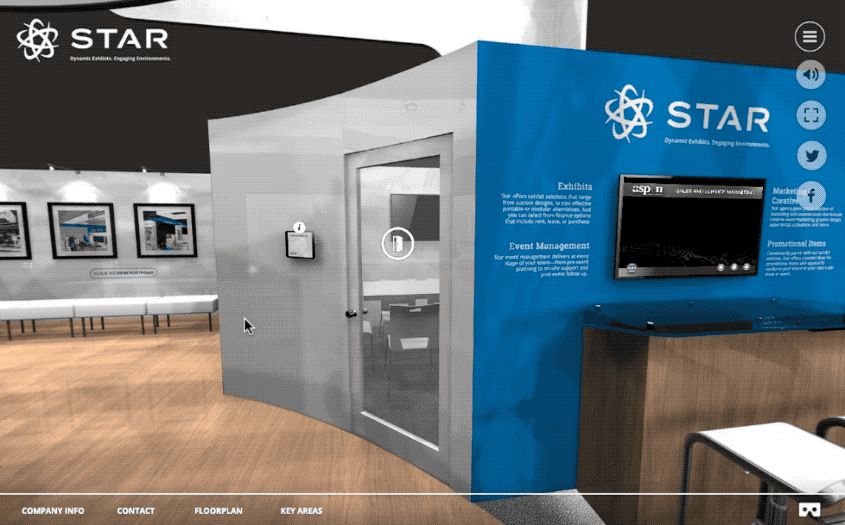 Integrate with today's key marketing and communications tools.
Gain additional benefits through integrations with key marketing and business communication platforms. Star can incorporate your existing marketing tools—or provide them to you. Either way, we have you covered!
Marketing integration functions include:
lead registration and email opt-in
marketing automation forms and campaigns
meeting scheduling
live meeting and webinars deployment
live chat/conversational marketing
e-learning
VIRTUAL PROJECT SPOTLIGHT:
Spectrum Dynamics Medical Virtual Exhibit
Spectrum Dynamics Medical's participation plans for SNMMI was altered when the show was canceled due to the COVID-19 pandemic. While they had a virtual exhibit page through the show's association, they wanted something more engaging and immersive. They turned to Star to create for them a custom virtual exhibit to present their company, products and services, and shared on their exhibitor's page from the show.
Main features of this project included:
product showcase areas
demonstration videos
presentation galleries and movies
guided tour opportunities for sales
integration with lead capture/opt-in
VIRTUAL PROJECT SPOTLIGHT:
JSerra Uncorked 2020 Virtual Wine Room
JSerra Uncorked 2020 was a private hybrid fundraising event that included virtual wine tastings from home paired with a socially distanced in-person event at the Surf and Sand resort. Star created a virtual wine room to connect event attendees to promotional videos, a sponsor winery showcase, and a live auction and silent auction.
Main features of this project included:
links to live and silent auction event components

sponsor wall with links to key winery sponsors

testimonial videos
Complement your virtual exhibit with interactive virtual 360˚ products.
Enhance your virtual exhibit or environment presentation with 360˚ duplicates of your products. Working with our Star virtual services team, we can take your 3D product file assets, or digitally capture and convert your physical products into a virtual twin.
Add dynamic hotspots that link to product information and related resources, and you have a truly valuable and efficient way to showcase your products online.
Key Virtual Exhibit Features
1. Customizable Design
A Star virtual exhibit gives you a custom exhibit design that is tailored to your specific event project needs—whether it's asthetic, functional, or marketing based.
2. Online Format
A Star virtual exhibit is deployed online, so it can be easily shared through your online channels—including websites, social media, and email.
3. Digital Content and Marketing Integration
Your virtual exhibit can showcase all your content and integrate with existing marketing tools and platforms.
Digital content types include:
promotional videos
presentations
product/service data sheets
interactive 360˚ products
web pages
live media
Marketing integration functions include:
lead registration or email opt-in
marketing automation forms and campaigns
meeting scheduling
live meetings and webinars deployment
live chat/conversational marketing
e-learning
4. Visitor Activity Tracking/Analytics
A Star virtual exhibit provides valuable visitor information and click action activity data.
And with marketing automation integration, you can gain additional visitor analytics and incorporate their activity into your automation workflows and processes.
Key Virtual Exhibit Benefits
1. Unlimited Creative Options
The digital format of a virtual exhibit allows for a lot of flexibility when it comes to your content. You can create customized messages for each audience who might be viewing your content, or can update your exhibit as your content or tools change.
2. Address Schedule Changes & Missed Engagement
In situations where your trade show is cancelled or postponed, a virtual exhibit allows you a way to still maintain a connection to your target audience, and maintain business continuity with your trade show program.
Or your virtual exhibit can allow you to capture or recapture missed engagement opportunities with customers who missed you at the last trade show.
3. Gain Additional Customer Insight
With the content and tools integrations and visitor analytics that are available with a Star virtual exhibit, you can gain additional insight into the interests and preferences of your prospects and customers, leading to improved customer engagement and business opportunities.
4. Increased Marketing Opportunities and ROI
Your virtual exhibit can be coordinated with your trade show and events schedule—but beyond that—can effectively complement your website, social media and other marketing channels as an indepdent marketing communications tool.
With year-round marketing opportunities and additional channels to tap into, your virtual exhibit helps to increases your overall return on investment that was made with your original trade show exhibit marketing program.
Find the perfect format for your virtual projects.
Projects vary based on your specific needs, and your marketing, presentation and environment criteria, so we offer two virtual exhibit options:
VIRTUAL FORMAT 1:
360˚RENDERED ENVIRONMENTS
This is a 360˚ rendered virtual exhibit, created by our talented virtual design and development team. For current customers, it can be a 3D rendered version of your existing exhibit!
VIRTUAL FORMAT 2:
360˚ DIGITALLY CAPTURED ENVIRONMENTS
If you have a fabricated exhibit, we'll capture and create an immersive 360˚ digital duplicate, giving you all the added features and benefits of the virtual format!
Request a demo or proposal today.
Select a date and time to schedule a consultation and demo with a Star virtual exhibit and environment consultant.