Chicago, IL—For more than 50 Years, Star has remained a reliable, trusted partner for our clients by continuously providing innovative and visually-stunning exhibits and event structures.
Part of staying current in the latest methods and innovations of our highly competitive industry is for Star to keep up with technological advances that strive to keep our suite of products and services at the higher end of industry demands.
It is with this motivation in mind that Star was recently inspired to enhance its in-house arsenal of printing capabilities by adding the brand new Panthera S4 3.2m Dye Sublimation Printer, in partnership with the Mosaica Group, the exclusive distributor of this innovative new printer.
This remarkable piece of equipment works by heating solid ink so that it can be deposited on a variety of solid surfaces such as plastic, fabric, or even ceramics—further expanding our capabilities for printing everything from photos and ID cards, as well as for producing customized items like coffee mugs, T-shirts, and even large-scale print rolls.
We recently spoke with Star's Graphics Manager, Bryan Fairbanks, about adding the Panthera S4 to Star.
– – –
So, Bryan, what makes the Panthera S4 3.2M a superior printer? How did Star come to a decision to go with this versus comparable tech?
Well, with print speeds of up to 4,000 square feet per hour, the Panthera S4 is one of the fastest printers in the market. The Mosaica Group, Star's wide format printer partner, proposed a solution that reduced our overall capital investment costs by half over other manufacturers. Also, it was designed specifically with its own line of consumables—like an ink set and transfer paper—to deliver us low-cost, but exceptionally high-quality, color-rich prints on a wide variety of fabrics.
It's quite versatile, then.
Yes, we can sublimate on a wide variety of materials now versus being able to just print on a select few with our previous printer, the LX850 Latex printer. It expands the kinds of ways graphics can be used for different kinds of projects. It's the closest thing to having an all-in-one graphics solution.
What exactly is a dye sublimation printer?
Dye-sublimation printers are used for printing photos and designs on solid objects. It works by heating a special type of ink and then depositing it—one color at a time—on a surface. These printers produce continuous tones compared with inkjet printers where the tones can vary with dithering. In this case, reproducing photos on dye-sublimation printers are much more accurate than with traditional inkjet printers
What are some of its most important features?
The printer offers up a plethora of print possibilities!
We're not just limited to fabric substrates because this versatile printer allows for new polymer-treated materials that have been developed specifically for dye-sublimation applications that include aluminum, brass, ceramics tiles, glass, fiberglass, acrylic, plastic and hardboard sheet materials.
We can create customized mouse pads, key chains, magnets, smartphone cases, pet bowls, light switch plates and much more!
Its speed and quality outputs are great for quick soft signage or on-demand, high-impact POP displays, too.
And, of course, the printer's versality with polyester fabrics is wide-ranging, meaning we can create everything from sturdy banners, photographic backdrops, to custom apparel and, yes, even upholstery prints!
What benefits does this printer have for our clients?
More than anything, our clients are guaranteed even more superior quality graphics with almost limitless textile possibilities. Plus the printer's print speeds can also give some flexibility with production turn-arounds while still guaranteeing top-notch deliverables.
Adding this printer to our technology portfolio marks another major milestone in Star's long history of continuing to provide quality products for the industry. And I have no doubt that this will be a game changer for us.
Learn more about Star's other graphics capabilities by clicking HERE.
***
About the Author
Michael spent the past two decades as a senior-level designer and art director with an emphasis on high-end branding, packaging, and targeted advertising. For Star, his responsibilities include graphic design, social media communications, client agency services, copywriting, web design/development and administration, and PR. You can reach him at mquintos@starincorporated.com.
Check Out These Related Posts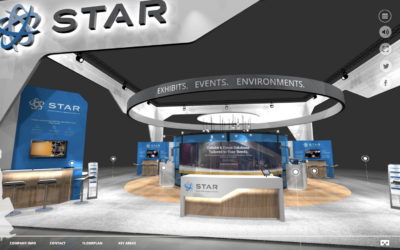 FOR IMMEDIATE RELEASE Chicago, Illinois, May 12, 2020—Star Incorporated, an event and trade show solutions provider of exhibits, graphics, and event services with over fifty years of proven success in the industry, launched its new virtual exhibit, event, and...
read more